Top 5 things to do with your family (winter edition)
Presentation
You are finally on holiday, the luggage is ready, the car is loaded and the children are excited: Manigod awaits you. Discover the top 5 family activities to spend unforgettable moments with your family.
1. Sledge or paret :
Get on a sledge or, more unusually, on a paret and have fun sliding down the slopes with your family. Laughter and excitement guaranteed!
For your safety and that of your children, it is recommended to wear a helmet.

What is a Paret?
The Paret is a small wooden sled with one runner, a board for sitting on and a handle for steering.

2. A dog sled ride:
No need to go to Canada or Scandinavia to discover sled dogs, come and experience them in Manigod. Climb aboard a sled pulled by sled dogs for an unusual family outing. Let yourself be guided by the musher and enjoy the beauty of the landscape, which will awaken the trapper in you. An adventure close to nature offering unique sensations.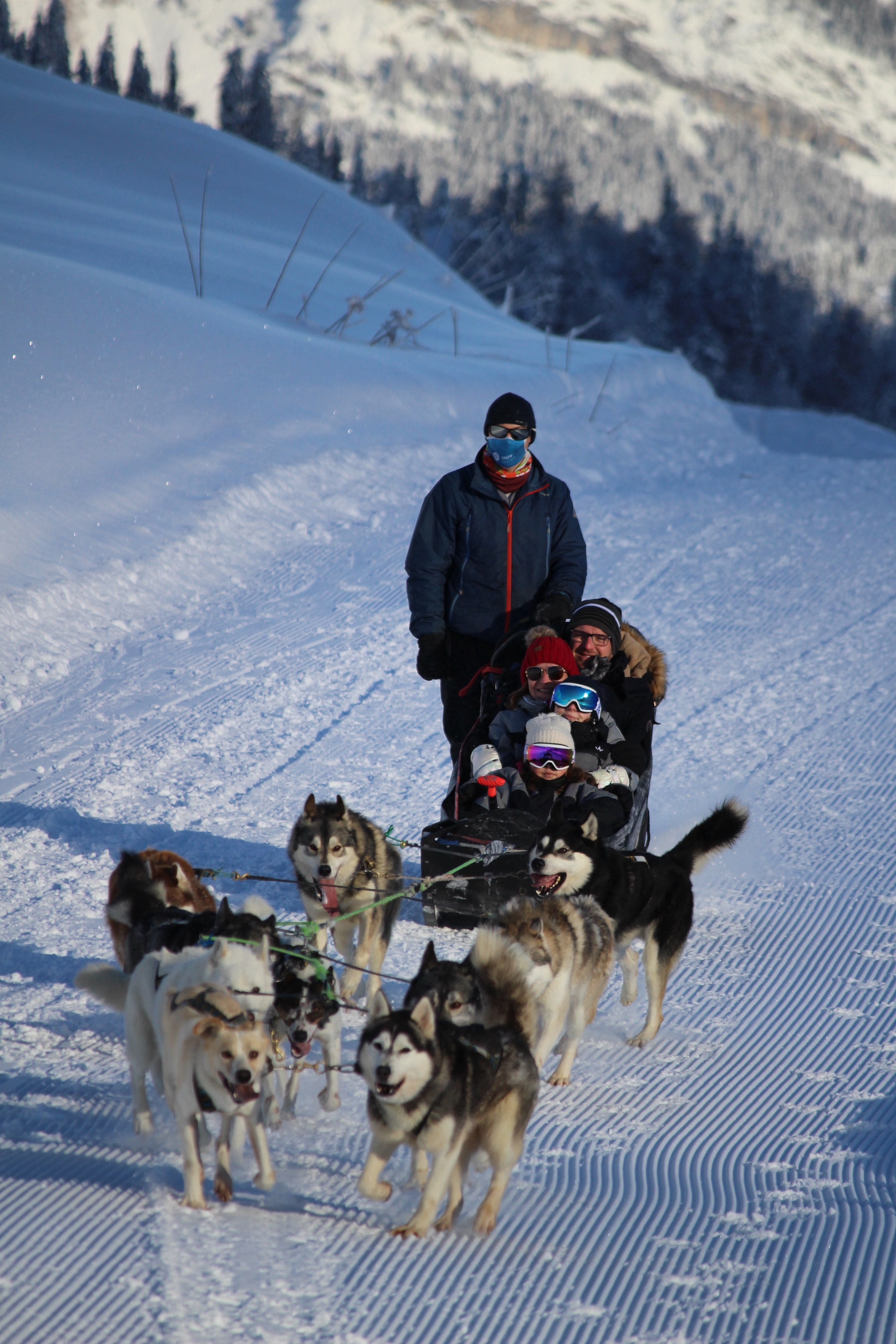 3. Snowshoeing :
Want to breathe in the fresh mountain air with your family? Try out the many walks available to you. Follow the marked paths from the Croix Fry pass or the Merdassier pass, between fir trees, valleys, ridges and summits, come and admire the beauty of the Manigodin landscape. There are several snowshoe circuits, adapted to your wishes and your level.

Snowshoe guidebooks are available for sale at 3€ in our different information points: Manigod village, Col de Merdassier, Col de la Croix Fry.
4. Discovering local farms:
Goats, cattle, sheep, Manigod has many farms. Some farms or maturing cellars sell their cheeses directly and offer visits. Go behind the scenes of cheese production and meet the farm animals with your family. Reblochon, manigodine, tomme de Savoie...welcome to the land of cheese!
5. Treasure hunt :
Do you have a playful spirit? Try the treasure hunt starting from the Merdassier Pass Information Point! Reveal your detective skills to discover the hidden treasure thanks to a trail game made up of riddles and hidden clues.

Come and collect your roadmap at the information point of the Merdassier pass. The treasure hunt is available until 5 March so don't delay!